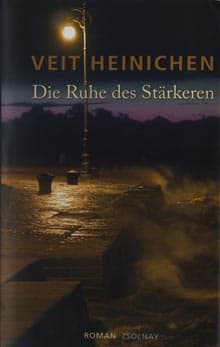 Original Title
Tod Die Ruhe des Stärkeren
Date of Publication
2009 Paul Zsolnay Verlag, Wien
Prizes:
Premio Azzeccagarbugli 2010 – Best foreign novel
Version
Italian (La calma del più forte, 2009 Edizioni e/o), Greek (Η ηρεμία του ισχυρότερου, 2009), Slovenian (Spokoj močnejšega, 2010 Meander), Spanish (La calma del más fuerte, 2010 Siruela) French (La raison du plus fort, 2012 Seuil), Czech (Klid mocných, 2012 Detektivní román host)
---
On a clear December morning, while cycling in the Carso, Inspector Pina Cardareto is attacked by a combat dog. After the attack the dog vanishes in thin air. A few days later, Commissario Laurenti, back from a Security conference regarding the entrance of Slovenia in the Schengen Area, finds himself involved in a murder scene: just a few meters from him, Marzio Manfredi, a homeless taxidermist from the Carso, is found hanging on a metal rope. Two apparently independent events lead to a common line of investigation. Everything seems to revolve around Goran Newman, "The Duke", a mysterious businessman who operates in high finance, allegedly with a large amount of dirty money. He seems to be the target of an assassination attempt perpetuated by an irredentist group called "Istria libera, Dalmazia nostra" which Marzio Manfredi is also involved with. This group allegedly organises also illegal dog fights. The situation is further complicated by the fact of The Duke's son, Sedem, who is on a wheel chair, having a relationship with Pina Cardareto.
This novel highlights the background of the economical crisis, taking the reader within the world of high finance mob among dirty politicians, ruthless businessmen, financial bubbles and subprimes. In the background there are Europe's political changes, with the Eastern Enlargement of EU and the growing role of the city of Trieste, acting again as a bridge between the East and the West.
Special witness to the events is the dog Argo, significant victim of humankind's obsession with the new God, Money, capable of turning his best friend into a terrible weapon.
---
"Veit Heinichen is Fellini of crime novel, but also his Jamie Oliver"
Walter Grünzweig - Der Standard
"Nessun muro ha mai fermato i criminali. Nessun confine ha saputo fare argine al traffico di stupefacenti, al riciclo di armi, al frullare del denaro sporco. E neanche il nuovo ordine europeo, neanche il sogno di poter vivere in un mondo migliore abbattendo le vecchie frontiere, sembra essere in grado di fare piazza pulita di piccole e grandi mafie.
E allora non resta che mettere da parte le illusioni e raccontare questo nuovo mondo senza peli sulla lingua. Come fa Veit Heinichen"
Alessandro Mezzena Lona - Il piccolo
"E' un vero peccato non poter dire che Veit Heinichen è uno dei migliori giallisti italiani. Semplicemente perché, nonostante Herr Heinichen viva ormai da moltissimi anni a Trieste, nonostante che i suoi libri siano tutti ambientati in questa città, che abbiano a che fare con gli svariati crimini della società italiana e che i personaggi siano italiani, resta il fatto che Heinichen è tedesco.
La piacevolezza dei romanzi di Veit Heinichen deriva dall'equilibrio tra tensione e placidità e tra pubblico e privato, il tutto insaporito dal colore locale di ricette e vini e illuminato dal colore dell'aria della città che una volta era il porto asburgico sull'Adriatico.
Le trame di Veit Heinichen traggono sempre spunto da avvenimenti veri - scandali, fatti di cronaca, traffici illeciti di ogni tipo - ed è come se lo scrittore ci costringesse a prendere atto che i crimini di cui parla si svolgono sotto i nostri occhi, ingenui, incuranti, benpensanti"
Marilia Piccone - Stradanove