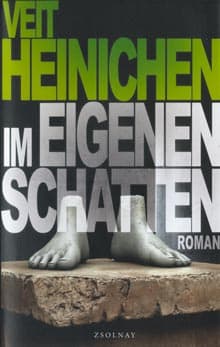 Original title
Im eigenen Schatten
Date of publication
2013 Paul Zsolnay Verlag, Wien
Prizes:
 PREMIO SELEZIONE BANCARELLA 2014
Versions
Italian (Il suo peggior nemico,2013 Edizioni e/o), Polish (We własnym cieniu,2014 Noir sur blanc)
---
Zu viel Alkohol, zu wenig Schlaf. In aller Herrgottsfrüh stieg Spechtenhauser aus dem Mercedes und wankte zum Hangar des Sportflughafen bei dem kleinen Ort Prosecco hinüber. Gäbe es am Himmel Alkoholkontrollen wie Samstagnacht in der Stadt, hätte er seinen Abflug sicherlich verschoben.
Kein Schrei ohne Not. Das zweistöckige Haus der Famillie Zannier hatte hundert Meter vom Ortskern entfernt gelegen und war bis auf die Grundmauern eingefallen. [..] Am 6. Mai 1976 hatten um 21 Uhr 06 heftige Erdstoße die Kleinstadt Gemona am Auslauf des Kanaltals fast kompett zerstört. [..] Um vier Uhr siebenunddeißig stieß Xenia Ylenia Zannier den ersten Laut ihres Lebens aus. Zwei blutige Hände umfassten ihren kleinen Siebenmonatskörper und übergraben ihn einem Sanitäter mit einer Rotkreuzbinde über dem Ärmel seiner Uniform.
---
When the businessman Franz Xaver Spechtenhauser blows up with his Cessna, nobody thinks of murder. The spectacular robbery of some gold bars leads the detectives to follow a line of investigation involving organized crime. But from the man's past clues emerge that cast great doubts on his history and identity. Who was Spechtenhauser in reality? A respectable family man or a tyrant? A nazi criminal or a man of charity? A corrupt politician or an ambassador of peace? A professional charity man or an international trader? Another case for Commissario Laurenti who will solve the mistery with the help of Pina Cardareto and of his novice Xenia Ylenia Zannier. Who has killed Spechtenhauser? And why?
---
"Proteo Laurenti gehört zur Riege der großen Kommisare."
Der Spiegel
"Hochqualitätsthriller - hart an den aktuellen kriminalistisch-wirtschaflichen Realitäten "
Suzanne Zobl - News
"Una certezza è che con i romanzi di Veit Heinichen è impossibile annoiarsi: con teutonica precisione ne sforna uno ogni due anni. E con fantasia tutta italiana ogni volta trova modo di rendere diverso il suo protagonista Proteo Laurenti."
Pietro Cheli - Il Criticone
"Un'arma a doppio taglio, quella del genere noir, di cui Heinichen è un maestro, riuscendo a calibrare e soppesare azione, critica e sarcasmo"
Chiara Catani - FreeTime
"Heinichen, Kenner des Alpe-Adria-Raums mit all seinen negativen und positiven Seiten, verknüpft Aktuelles mit Zeitgeschichte, Spannung mit Humor."
Walter Titz - Kleine Zeitung