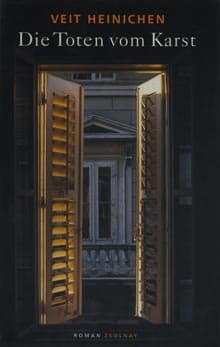 Original title
Die Toten vom Karst
Date of publication
2002 Paul Zsolnay Verlag, Wien
Versions
Italian (I morti del Carso, 2003, Edizioni e/o), Dutch (Vetes, 2004, De Geus), French (Le morts du Karst, 2007 Seuil), Spanish (Los muertos del Carso, 2008 Siruela), Slovenian (Mrtveci s Krasa, 2010 Meander)
---
A Sunday morning of Bora Scura, the intense wind of Trieste. An explosion in the small town of Contovello, up in the Carso. A merchant has been killed with his whole family. But this is just the tip of the iceberg for Commissario Laurenti's investigation. In this novel the police commissioner will handle never ending hate and illegal traffics on the Sea.
After Jean-Claude Izzo's Marsiglia, Andreu Martin's and Manuel Vasquez Montalban's Barcelona, it's time to discover another fascinating Mediterranean harbour: Trieste. The North-East Italian city becomes the place where dark plots and noir adventures take place. With its long time history and as the present centre of trades and migrations, Trieste is the perfect inspiration for a crime-writer. On one end, this novel takes its force from the tragic experience of WWII, with the Foibe affaire not yet solved. On the other hand, the novel's plot also tells about nowadays trades, both legal and illegal, and pictures Trieste as a crossroad between East and West, on the edge of the Eastern world, deeply affected by the fall of the Berlin's Wall and most of all by the civil war in former Jugoslavia. This is just a taste of the context where Commissario Larenti's investigations unfold.
---
"Strongly linked to the contemporary situation of Trieste, but also capable of seeing into its lethargic appearance."
Paolo Rumiz - La repubblica
"Without simplification, Veit Heinichen writes an engaging plot and an unusual novel by telling - as a stranger - a corner of Italy swept by History."
Lara Crinò - D/ La Repubblica
"Un polar qui renouvelle le genre et ouvre sur d'autres cultures."
Lire
"Veit Heinichen ha tutti i requisiti per essere considerato uno scrittore triestino, forse più di chi è nato e cresciuto nella città e ne condivide quindi meno l'anima plurima e randagia"
Claudio Magris - Il nostro Tempo,